Federal Agency Issues Advisory on Symptoms Linked to 'Long COVID' (2023)
The U.S. Department of Health and Human Services (HHS) issued an advisory in June 2023 about mental health symptoms linked to "long COVID," or suspected long-lasting symptoms caused by COVID-19.
Long COVID occurs when people recover from the COVID-19 virus but then experience symptoms that last more than three months, including fatigue, headaches, sleep problems, coughing, and cognitive impairment. While some medical professionals believe it's largely exaggerated, HHS has signaled that it's a real phenomenon.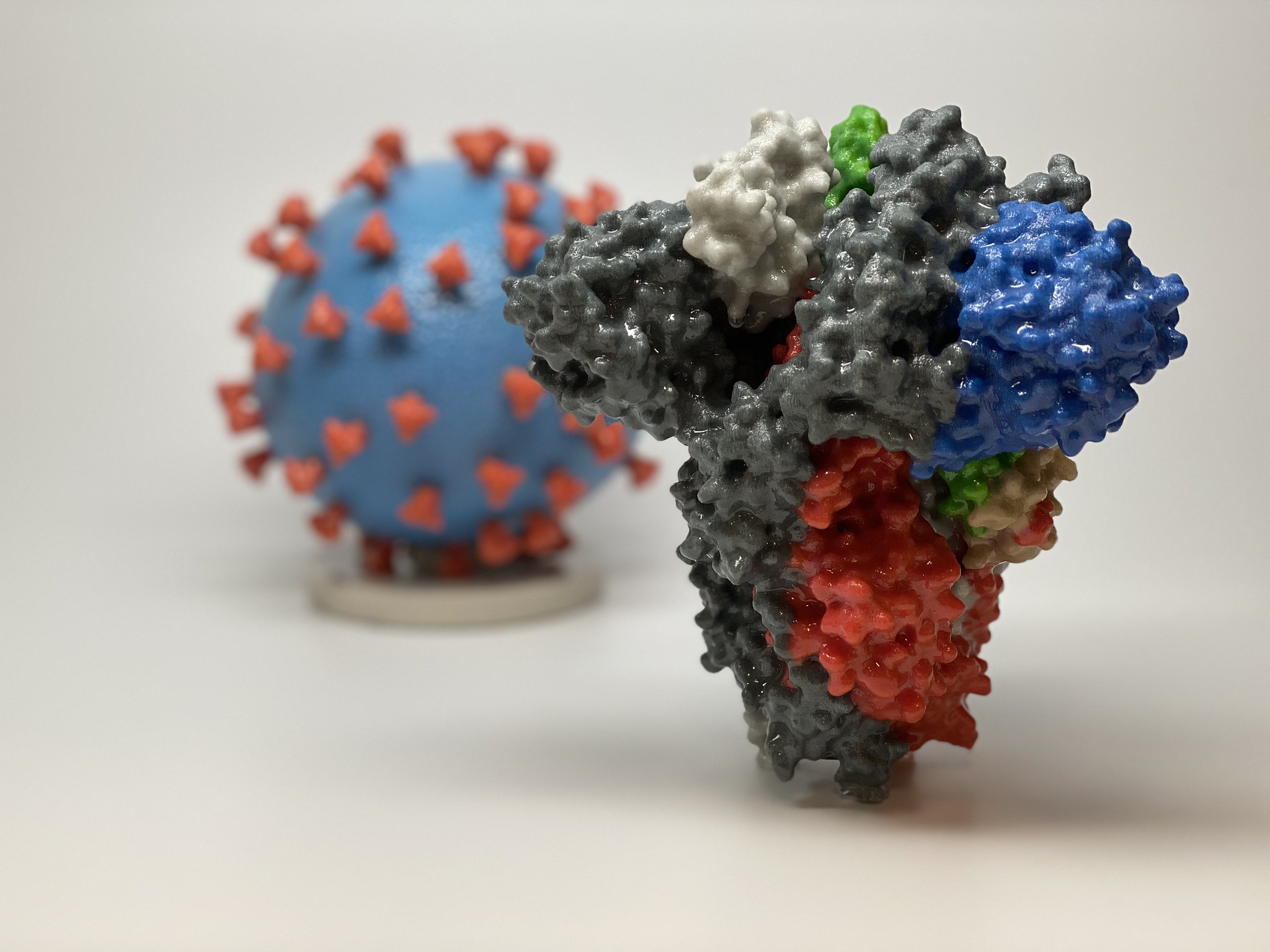 A 3D print of a spike protein of SARS-CoV-2—the virus that causes COVID-19—in front of a 3D print of a SARS-CoV-2 virus particle. (Courtesy of NIAID/RML)


"Long COVID has a range of burdensome physical symptoms, and can take a toll on a person's mental health. It can be very challenging for a person, whether they are impacted themselves, or they are a caregiver for someone who is affected," HHS Secretary Xavier Becerra said in a release on June 21. "This advisory helps to raise awareness, especially among primary care practitioners and clinicians who are often the ones treating patients with Long COVID."
Another HHS official, Miriam E. Delphin-Rittmon, said that individuals with "long COVID" should be "properly identified" and referred for treatment. They should be screened for "mental health conditions" along with their physical symptoms, she said.
According to the HHS news release, about 10 percent of all people who have previously come down with COVID-19 have suffered at least one symptom of long COVID. But the HHS advisory found mental health symptoms and conditions linked to long COVID such as anxiety, psychosis, depression, and other mental issues.
"Long COVID can have devastating effects on the mental health of those who experience it, as well as their families, due to a number of factors, including chronic illness (both physical and mental), social isolation, financial insecurity, caregiver burnout, and grief, according to the advisory issued today," the release says.
There's also been some research that COVID-19-related lockdowns and rules also contributed to long-lasting mental health issues among adults and children. Around the world, starting in Wuhan, China, in early 2020, governments at the national and local levels implemented lockdowns in a bid to curb the spread of the virus.
The HHS advisory also includes tips for health care providers to help patients, including providing information about mental health services, therapy, and peer support groups.
"If you or someone you know is struggling or in crisis, help is available. Call or text 988 or chat 988lifeline.org. To learn how to get support for mental health, drug, and alcohol issues, visit FindSupport.gov," said the HHS news release.
Exaggerated?
In a recent Wall Street Journal article, Dr. Marty Makary, a professor at Johns Hopkins University School of Medicine, claimed that long COVID has been exaggerated in a bid to "scare low-risk Americans as our government gives more than $1 billion to a long COVID medical-industrial complex." For his argument, he cited a study that found COVID-19 patients often reported better long-term outcomes than patients who suffered from other, non-COVID respiratory infections.
After his article was published, Dr. Monica Gandhi, a professor of medicine at the University of California in San Francisco, told NewsNation that she, too, believes that long COVID "has (been exaggerated) by the CDC," referring to the Centers for Disease Control and Prevention.
But Gandhi said that not "all parties" have been exaggerating the problem. A CDC study had claimed that about 20 percent of COVID-19 infections result in long COVID, but a study from the United Kingdom last year found that 3 percent had it, she noted.
Gandhi added that the "20 percent" figure published by the CDC is "absolutely not accurate. No other study has shown that."
Other Studies
In May 2023, the National Institutes of Health, a U.S. agency overseen by HHS, released a study "of nearly 10,000 Americans, many of whom had COVID-19, have uncovered new details about long COVID," a news release said.
"Clinical symptoms can vary and include fatigue, brain fog, and dizziness, and last for months or years after a person has COVID-19," it said. "The research team, funded by the National Institutes of Health, also found that long COVID was more common and severe in study participants infected before the 2021 Omicron variant."
Data sourced from 9,764 adults, including 8,646 who had COVID-19 and 1,118 who didn't have COVID-19, were evaluated by NIH researchers. They also assessed about 30 symptoms across multiple body areas and organs and specifically "identified 12 symptoms that most set apart those with and without long COVID."
They include malaise, fatigue, brain fog, dizziness, gastrointestinal problems, heart palpitations, loss of smell or taste, thirst, chronic cough, chest pain, and abnormal movements, according to the agency.
Earlier in June 2023, researchers found that a mixture of Bifidobacteria species taken as a pill had an impact of deal with post-acute COVID-19 syndrome, or long COVID, according to a Hong Kong study. After six months, patients taking the mixture had better improvement in symptoms of fatigue, memory loss, difficulty concentrating, and other health issues related to long COVID.
Reposted from: https://www.theepochtimes.com/health/federal-agency-issues-advisory-on-symptoms-linked-to-long-covid-5349548.html