Dr Peter McCullough: How to Detox Spike Protein from Body (2023)
Over three years into the pandemic with nearly the entire country having become sick with SARS-CoV-2, a virus engineered to invade the body, there are millions suffering with long-hauler syndrome. Approximately half of patients admitted to the ICU with COVID-19 will have post-COVID syndrome which is now understood to be due to persistence of the SARS-CoV-2 Spike protein within cells, tissues, and organs. Those vaccinated have been additionally loaded with Spike, so may have even a worse course with prolonged symptoms including fatigue, lethargy, brain fog, muscle loss, skin and hair changes, sleeplessness, and effort intolerance. The magnitude of the problem has driven an all-encompassing search for management strategies to resolve the syndrome(s).
Hope is on the horizon with a preprint paper published by Halma et al summarizing the prescription drug and over-the-counter candidates for therapy. In my practice, I stylize the approach based on the patient and how recent the COVID-19 infection was in their history. If there are lingering signs of infection, then a course of full dose ivermectin can be considered. Aspirin is reasonable given increased rates of heart attack and stroke after the illness. I have found the colchicine appears to have an important role in pleurodynia or chest wall discomfort. Additionally it is used with corticosteroids in vaccine-induced myopericarditis. Low-dose naltrexone has been reported to ameliorate fatigue and inanition. Metformin has supportive data and would be appropriate in pre-diabetes and those with diabetes mellitus.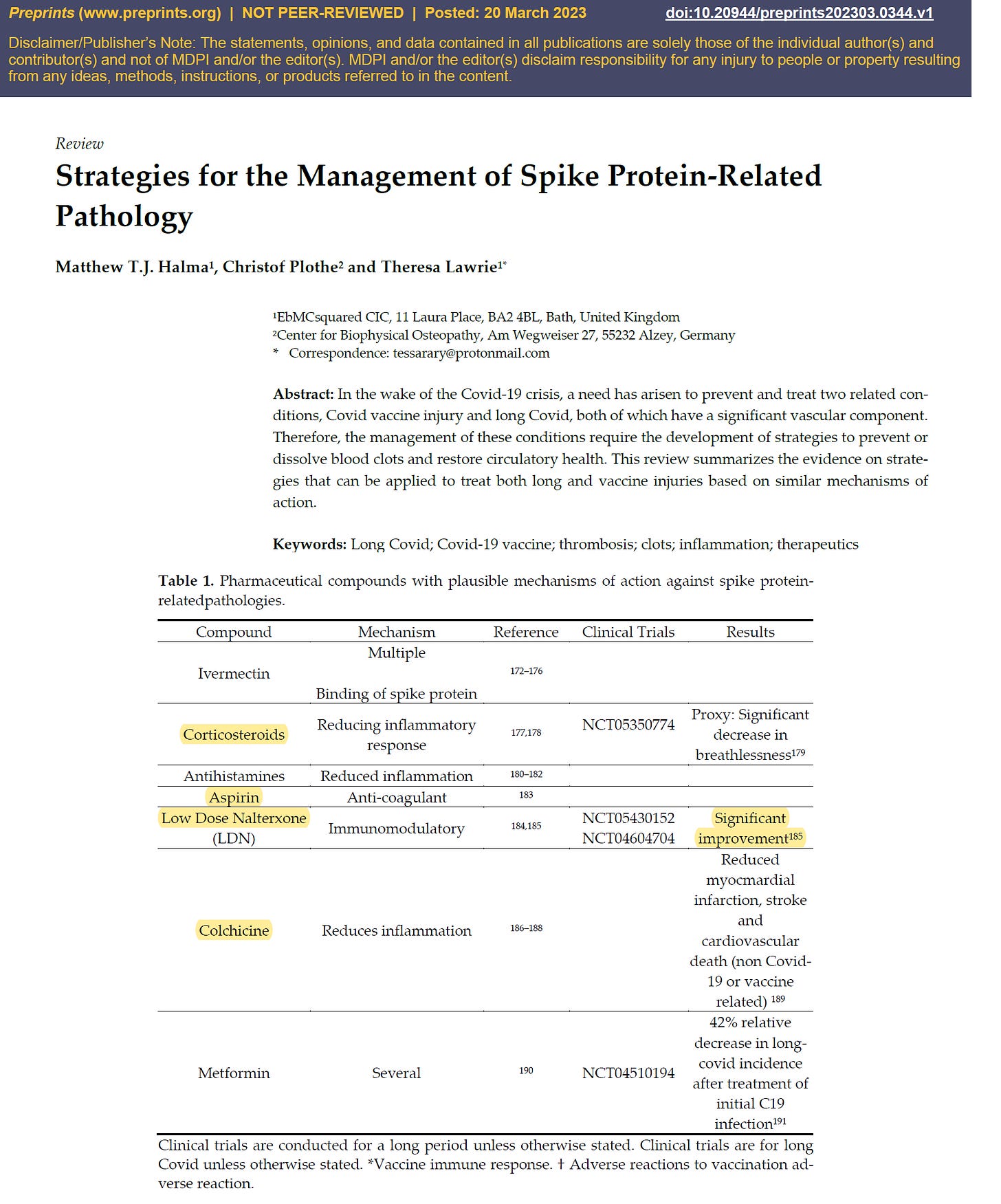 Halma, M.T.; Plothe, C.; Lawrie, T. Strategies for the Management of Spike Protein-Related Pathology. Preprints 2023, 2023030344. https://doi.org/10.20944/preprints202303.0344.v1.
From the OTC list, I have found nattokinase, the Japanese product derived from natto (a
traditional
Japanese food
made from whole soybeans that have been
fermented
with
Bacillus subtilis
var.
natto
.) to be the most compelling and scientifically supported approach to clear Spike protein out of the body via proteolytic degradation. A host of cellular protective, anti-oxidant approaches are listed with vitamin C and NAC being readily available and widely used.
Nattokinase and Spike Protein
Tanikawa et al. examined the effect of nattokinase on the spike protein of SARS-CoV-2. In the first experiment, they demonstrated that spike was degraded in a time and dose-dependent manner in a cell lysate preparation that could be analogous to a vaccine recipient. The second experiment demonstrated that nattokinase degraded the spike protein in SARS-CoV-2 infected cells. This was reproduced in a similar study done by Oba and colleagues in 2021.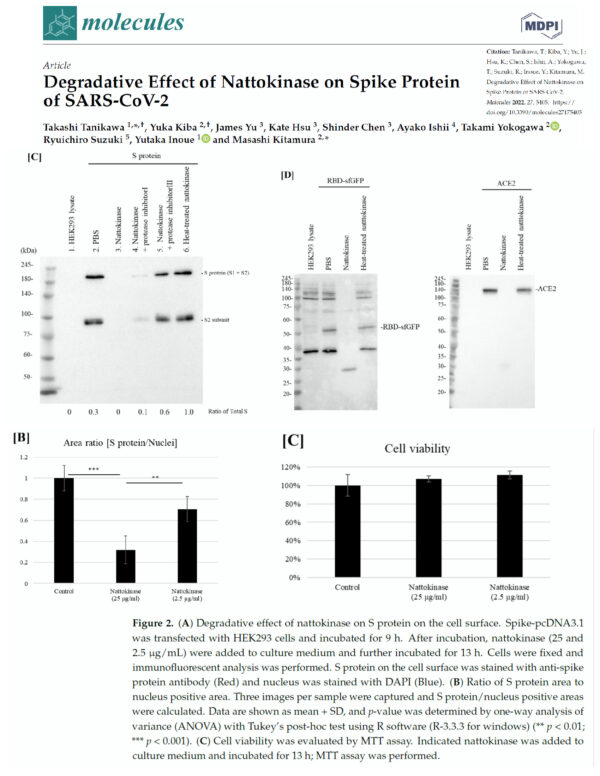 Nattokinase is dosed in fibrinolytic units (FU) per gram and can vary according to purity. Kurosawa and colleagues have shown in humans that after a single oral dose of 2000 FU D-dimer concentrations at six, and eight hours, and blood fibrin/fibrinogen degradation products at four hours after administration elevated significantly (p < 0.05, respectively).
Thus an empiric starting dose could be 2000 FU twice a day. Full pharmacokinetic and pharmacodynamic studies have not been completed, but several years of market use as an over-the-counter supplement suggests nattokinase is safe with the main caveat being excessive bleeding and cautions with concurrent antiplatelet and anticoagulant drugs.
Ivermectin and Spike Protein
Former NIH researcher David Scheim, PhD, early in the pandemic proposed that SARS-CoV-2 Spike protein was acting like a grappling hook pulling together circulating red blood cells (RBCs) into long chains and clumps in a process called hemagglutination (HA).
This explained why the red blood cells could not carry oxygen normally and was congruent with the finding of micro blood clots in the lungs. Boschi et al have provided additional support for this mechanism (
source
). By reversing the clumping of red blood cells, ivermectin enabled the patient's proper respiratory function to return.
According to the authors:
"Ivermectin blocked HemAgglutination when added to RBCs prior to spike protein and reversed HA when added afterwards."
In another spectacular publication, Stone et al, describes the prompt improvement of oxygenation in patients with ivermectin (
source
).
The published oxygenation curves from multiple studies clearly show this physiological effect of ivermectin occurs so rapidly, it must be explained by a direct anti-Spike protein effect of ivermectin. An
anonymous video of a critically ill man
demonstrates the very effect that Scheim, Stone, Hazan, and Babalola have described in the Figure above. So for the next critically ill patient with COVID-19, if the opportunity presents itself, push for the administration of ivermectin. This is the only published therapy for COVID-19 that improves oxygen saturation while the patient mounts a recovery. As in this man, it may be the critical factor for a turnaround and a chance to walk out of the hospital.
Key Takeaway
Patients should push their doctors to refer them to clinical trials, and when that is not feasible, then empiric therapy can be pursued. It is important to realize that in the absence of completed large randomized placebo controlled randomized trials, which are easily 5 or more years away in the future, no therapeutic claims can be made. In the meantime we must be perceptive as patients and open-minded as clinicians to come up with reasonable approaches that can be used to help those sick now with post-COVID syndromes.
Editor's Note:
Though there are many long haulers treatment protocols out there, we consider and recommend the
I-Recover protocol
as one of the best.
Given the lack of clinical trials of long-haul COVID-19 syndrome, these recommendations are based on the abnormal changes within the body associated with the COVID-19 disease and post viral illnesses along with the collective experience of FLCCC members.
This protocol has also been used to treat post-vaccine inflammatory syndromes with similar success. As with all FLCCC Alliance protocols, the components, doses, and durations will evolve as more clinical data accumulates.
Due to the marked overlap between long COVID and post-vaccine syndrome, please refer to the
I-RECOVER Post-Vaccine Treatment protocol
for detailed treatment strategies.
The Wellness Company's acclaimed Spike Support Formula contains scientifically-researched ingredients, including nattokinase, black seed oil, green tea extract and selenium.
These ingredients are known for their ability to dissolve spike protein, prevent it from binding to cells, and repair tissue.
Recommended to maintain daily health for anyone exposed to COVID, vaccines, or shedding – and may help your body repair itself and remain at optimal health.
Where to buy Spike Support Formula:
Spike Support Formula is available on The Wellness Company's website. Here is the link: Spike Support Formula
(Long Haul Formula)
Note: To get 10% OFF, please use this coupon code: ONEDAYMD