Why a Healthy Lifestyle Saves Lives in a Pandemic: Latest Evidence
After more than three years, the COVID-19 pandemic has officially ended. During a CNN interview, when summarizing the number of deaths (6,921,614) due to COVID-19, chief medical correspondent, Dr. Sanjay Gupta said, "We were not very healthy going into this pandemic."

Many people were far more vulnerable to COVID-19 because of pre-existing conditions or weaknesses when it hit. Should another virus or pathogen strike again, will we be physically prepared to handle it and have a better outcome?

As we reflect on our vulnerability, it's important to consider the ways in which a healthy lifestyle have been proven to strengthen our body's resilience as we face the future uncertainty of another pandemic.
As early as 2020, a paper published in the journal Clinical Infectious Diseases investigated the risk factors associated with hospitalization due to COVID-19 based on data from 5416 adults in the United States who were hospitalized with confirmed COVID-19 between March and June 2020. Hospitalization rates were significantly increased for individuals with certain characteristics including:
Those with three or more underlying medical conditions (fivefold increased risk)
Severe obesity (fourfold increased risk)
Chronic kidney disease (fourfold increased risk)
Diabetes (threefold increased risk)
Obesity (threefold increased risk)
Hypertension (nearly threefold increased risk)
Asthma (1.4-times increased risk)
Many chronic diseases are related to unhealthy lifestyles—our thoughts determine our behaviors and lifestyle choices, which affect our health status.
While some may underestimate the impact of lifestyle choices on health outcomes, numerous studies have highlighted their crucial role in preventing chronic diseases and conditions, specifically helping to protect against severe COVID-19 or long COVID.
Healthy Lifestyle Associated with Lower Risk of COVID-19 Hospitalization and Mortality
Multiple healthy lifestyle factors have been associated with a reduction in the severity of COVID-19 symptoms or death from infectious diseases.
A community-based cohort study of 387,109 adults in the UK found that adopting simple healthy lifestyle changes can lower the risk of severe COVID-19 infection leading to hospitalization and mortality.
The study considered three lifestyle factors: physical activity, smoking, and alcohol consumption.
Unhealthy lifestyle behaviors accounted for up to 51 percent of severe COVID-19 symptoms.
The study also found an association between elevated C-reactive protein and poor lifestyle behaviors with an increased risk of hospitalization. Low-grade inflammation was considered to be an important mechanism.
6 Healthy Lifestyle Factors Prevent Long COVID
Long COVID, also known as post-COVID-19 conditions (PCC) refers to the recurrence of symptoms at least four weeks after the initial positive test of SARS-CoV-2. An estimated 23 million Americans suffer from PCC.
Long COVID affects at least 10 percent of people with a new coronavirus infection and can be higher in severe cases. The incidence is estimated at 10 to 30 percent of non-hospitalized cases, 50 to 70 percent of hospitalized cases, and 10 to 12 percent of vaccinated cases.
These symptoms range from respiratory, cardiovascular, metabolic, gastrointestinal, neurological, and psychiatric dysfunction, which can have a significant impact on a patient's daily function and quality of life.
Given the difficulty of treating PCC, it is not surprising that people are increasingly interested in preventative measures.
Published Feb. 6 in JAMA Internal Medicine, a prospective cohort study by scientists from Harvard University and Zhejiang University (China) found that having a healthy lifestyle prior to SARS-CoV-2 infection was associated with a substantially lower risk of developing PCC.
The prospective cohort study looked at self-reported preinfection lifestyle data from the Nurses' Health Study II during 2015 and 2017 from 32, 249 women, among whom 1,981 reported a positive SARS-CoV-2 test from April 2020 to November 2021. The average age of the women was 66.
The study defined a healthy lifestyle as adhering to the following six factors:
Healthy body mass index (BMI) of 18.5 to 24.9
Abstinence from cigarette smoking
High-quality healthy diet—upper 40 percent of the Alternative Healthy Eating Index
Limited alcohol consumption
Regular exercise—at least 150 minutes per week of moderate to vigorous physical activity
Adequate sleep—seven to nine hours of sleep per night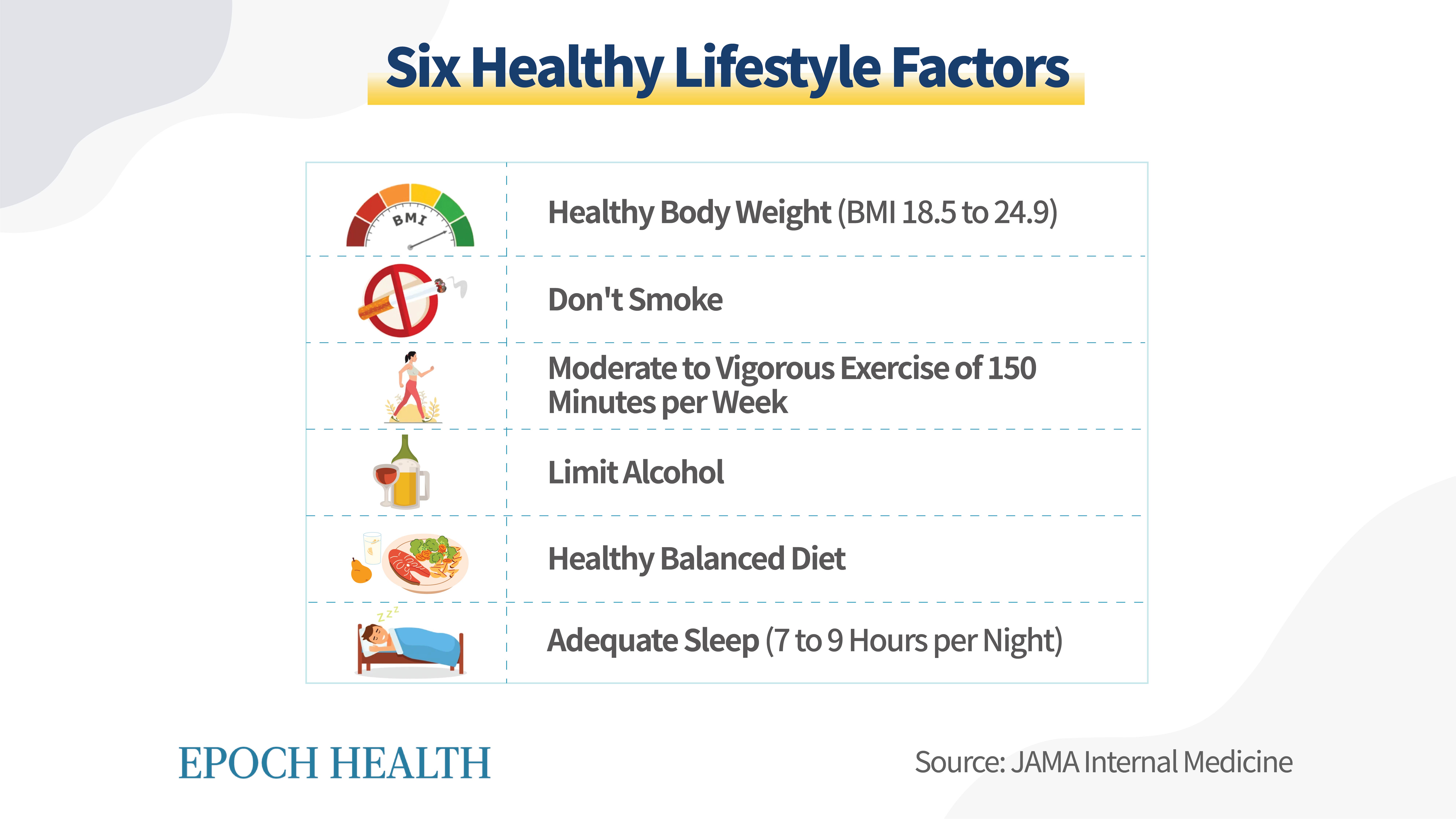 Six healthy lifestyle factors. (The Epoch Times)
Researchers found that those who adhered to five out of six of the healthy lifestyle factors prior to contracting COVID-19 had nearly half the risk of developing PCC compared to those with unhealthy lifestyles.
Multiple healthy lifestyle factors were also found to be associated with a reduction in the severity of COVID-19 symptoms or death from infectious diseases.
Participants in the JAMA study with a lifestyle score of five out of six factors, compared to those with a score of zero to four lifestyle factors, were found to have a lower probability of suffering from symptoms of long COVID, including fatigue, shortness of breath, cough, and muscular pain (see graph below).
Similar observations included other symptoms such as smell or taste problems, confusion/disorientation/brain fog, and memory issues.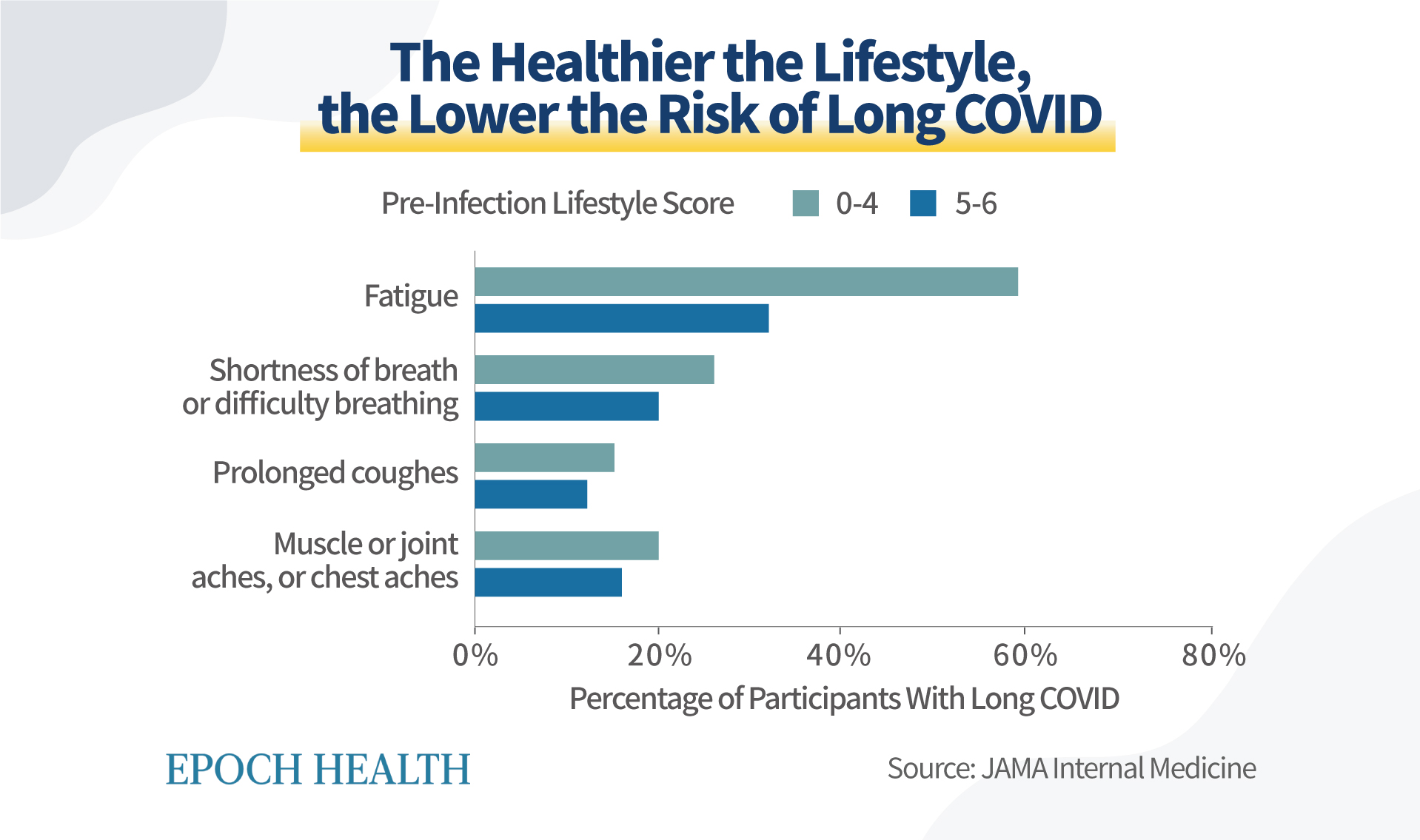 People with healthier lifestyles have a lower probability of long COVID symptoms. (The Epoch Times)
Body weight and sleep are independently affecting the risk of contracting long COVID. The JAMA study found that a BMI of 18.5 to 24.9 lowered the risk of long COVID by 15 percent. Sleeping seven to nine hours per day can lower the risk of long COVID by 17 percent.
Healthy Lifestyle Lowers Risk of Common Chronic Diseases
Another discovery revealed by the JAMA article is that a healthy lifestyle is associated with lower risks of chronic diseases, such as hypertension, hypercholesterolemia, diabetes, asthma, cancer, and cardiovascular disease.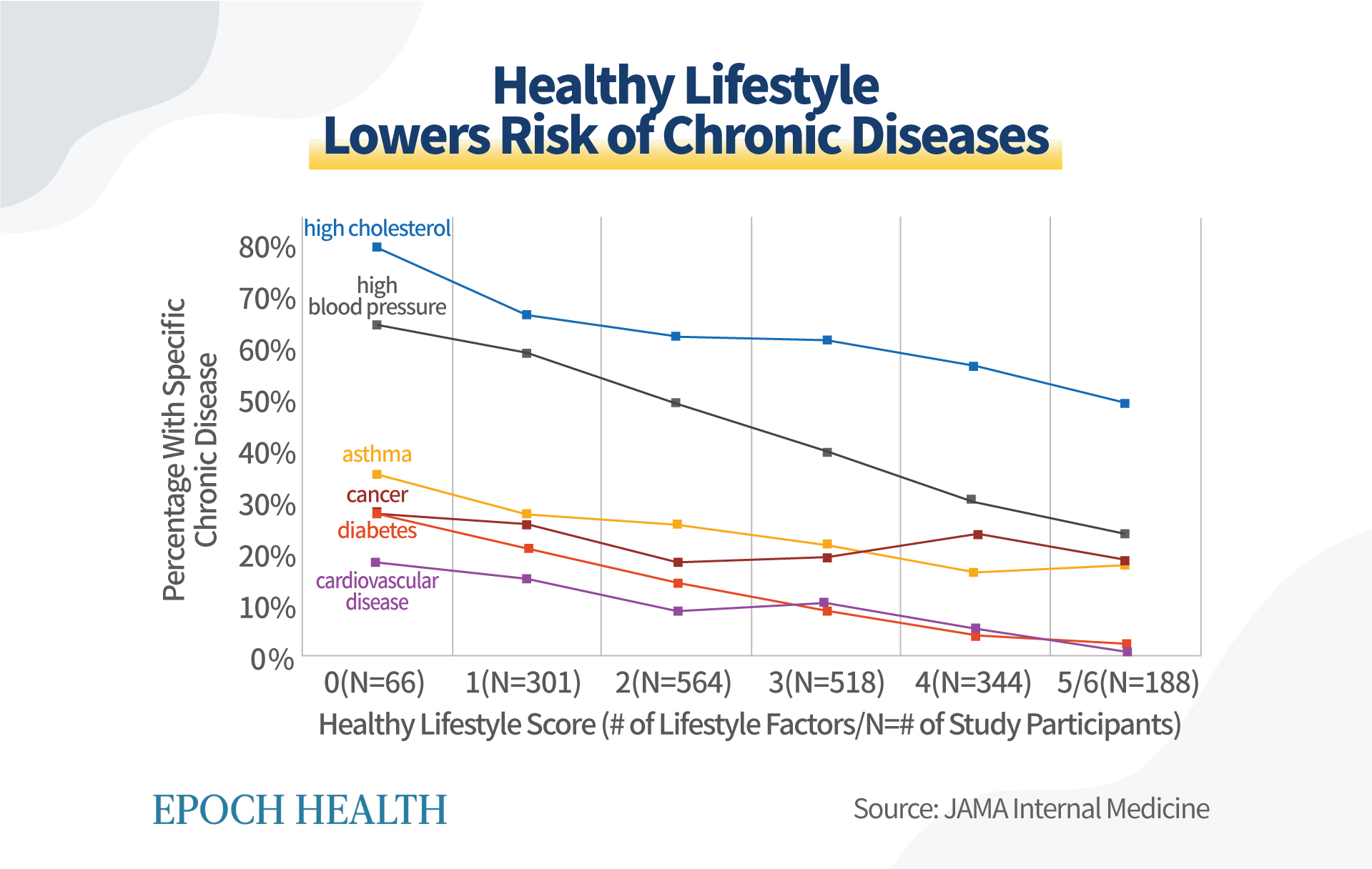 Healthy lifestyle factors lower risks for common chronic diseases. (The Epoch Times)
Long COVID Associated With Chronic Inflammation
A 2022 article published in Nature Immunology reported that long COVID is mainly exacerbated by persistent inflammation, autoimmunity, and the potential for viral hiding places.
Chronic inflammation leads to a vicious cycle of organ damage as the virus is not easily cleared in long COVID patients.
Obesity Causes Inflammation
Obesity is a state of chronic low-grade inflammation that results in many metabolic diseases. An enlargement or expansion of fat cells in adipose tissue facilitates cell rupture, which evokes an inflammatory reaction. Fat deposition in organs, mainly in the liver, may lead to insulin resistance.
Insulin resistance occurs when your body does not properly respond to insulin, which can lead to a problem with blood sugar regulation.
Excessive ingestion of fat without ingestion of antioxidant-rich foods may contribute to inflammation attributed to obesity, according to an article published in Mediators of Inflammation in 2010.
A high BMI is associated with an increased risk for chronic disease. BMI is calculated using your weight and height to estimate your body fat and is a general indicator of whether a person is a normal weight, underweight, overweight, or obese.
Smoking Induces Inflammation
An article in the Journal of Dental Research states that cigarette smoking can cause inflammation. Smoke contains bacterial toxins and many other components that induce inflammation and damage and weaken the immune system. Smoking is associated with cancer, chronic lung disease, vascular disease, and oral diseases.
A Healthy Diet Lowers Inflammatory Factor
Interleukin-6 (IL-6) is a marker of systemic inflammation in our body.
An article in The American Journal of Medicine reports that people with a healthy diet have lower than average IL-6 levels than those who eat an unhealthy diet.
The same study utilized the Alternative Healthy Eating Index (AHEI) which assigns ratings to foods and nutrients predictive of chronic disease risk, as shown in the chart below. A high score on the AHEI is associated with a lower risk for many illnesses. You can get an idea of how healthy your food choices are by using the AHEI to grade your diet.
Based on how often you eat certain healthy and unhealthy foods, the AHEI assigns a score ranging from zero (nonadherence) to 10 (perfect adherence). For example, if you have eaten no vegetables that day, you'd be assigned a zero, and if you ate five or more servings of a vegetable, your score would be 10. The scoring is reversed for unhealthy choices; eating one or more servings would earn a zero, whereas not eating any unhealthy food would earn a 10.
A key study in the Journal of Nutrition reported that participants who scored higher on the AHEI lowered their risk for chronic disease by 19 percent, reduced their risk of diabetes by 33 percent, and had a 31 percent lower risk of coronary heart disease compared to those with low AHEI scores.
Alcohol Consumption Increases Inflammation
The Lancet published research by German scientists that found that non-drinkers and heavy drinkers had higher C-reactive protein (CRP) concentrations than moderate drinkers.
CRP is a protein made by your liver and released into the blood. A higher level of CRP in your blood is associated with inflammation, which can indicate a serious health condition.
Alcohol is a toxic, psychoactive, and dependence-producing substance and has been classified as a Group 1 carcinogen by the International Agency for Research on Cancer decades ago—this is the highest risk group, which also includes asbestos, radiation, and tobacco.
Even though moderate alcohol consumption has been found to be beneficial to one's health in previous research studies, the World Health Organization (WHO) recently issued the following press release on Jan. 4: "No level of alcohol consumption is safe for our health."
"We cannot talk about a so-called safe level of alcohol use. It doesn't matter how much you drink – the risk to the drinker's health starts from the first drop of any alcoholic beverage. The only thing that we can say for sure is that the more you drink, the more harmful it is – or, in other words, the less you drink, the safer it is," explained Dr. Carina Ferreira-Borges, regional advisor for Alcohol and Illicit Drugs in the WHO.
Exercise Reduces Inflammatory Markers
Chronically elevated circulating inflammatory factors are a major risk factor for many chronic diseases as well as those associated with aging. Physical exercise is recognized for its role in relieving inflammation. Large cohort studies show that physical exercise reduces levels of inflammatory markers.
An American Heart Journal article correlates exercise and C-reactive protein in patients with stable coronary artery disease (CAD). The results suggest that exercise is negatively correlated with CRP levels in patients with known stable CAD and can be used for secondary prevention.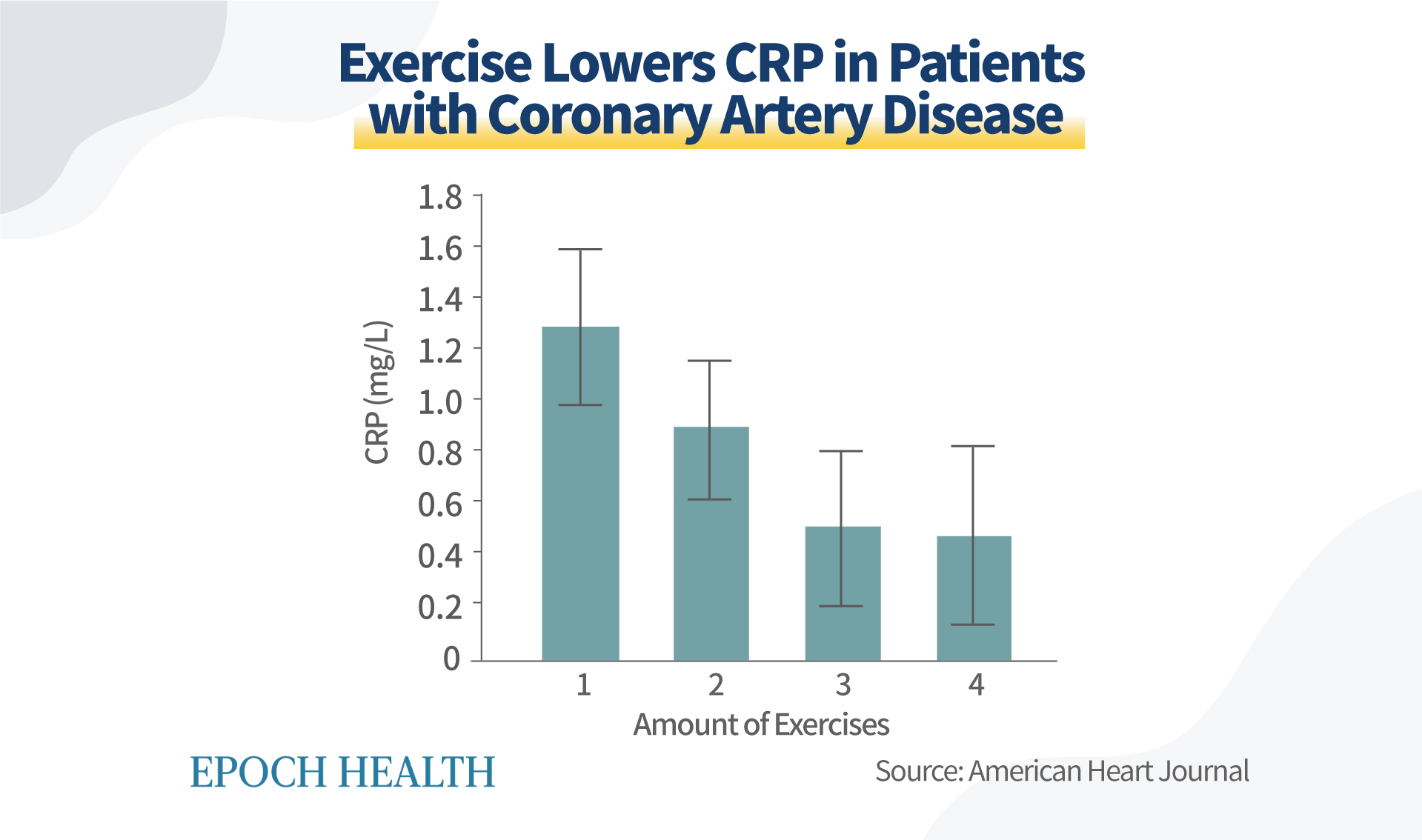 Physical exercise reduces levels of inflammatory markers. The lines in the graph, or error bars, represent 95 percent confidence intervals, which is a range of values that you can get 95 times out of 100 times of testing. (The Epoch Times)
Inadequate Sleep Increases Inflammation
Studies on the effects of acute sleep loss found that deprivation increases inflammatory mediators. Sleeping too little or too long can negatively affect health outcomes.
People who habitually sleep for short periods of time have a 10 to 12 percent higher risk of dying from any cause, while those who sleep for long periods of time have a 23 percent higher risk of dying from any cause.
Additional Benefits of a Healthy Lifestyle
By getting sufficient sleep, engaging in regular exercise, and consuming a nutritious diet, we can promote the smooth flow of lymphatic fluids in our bodies. This will help eliminate metabolic waste, inflammatory substances, and hidden viruses in a timely manner, thereby reducing the likelihood of infections and diseases.
In contrast, an unhealthy lifestyle can gradually obstruct the lymphatic flow, impairing our immune system and natural healing abilities.
Moreover, the benefits of a healthy lifestyle extend far beyond the prevention of chronic disease. By prioritizing our health, we can enjoy improved energy, vitality, and overall well-being.
As we are now at the end of the COVID-19 pandemic, we can reflect on the importance of protecting our health and consider how can we be better prepared should we ever face a similar crisis.

Reposted from: https://www.theepochtimes.com/health/building-resilience-nurturing-your-body-for-a-post-covid-pandemic-future_5244490.html

Additional and Updated Evidence
Diet
As of May 2023, there are more than 20 published studies on

diet and COVID-19

. This is an interesting development as diet related studies were not featured on the C19early.com's home-page previously.
What kind of diet are these studies referring to?
Reference links on Exercise and COVID-19 studies are available on this dedicated webpage:
c19early.com/ex
.
A
meta-analysis
of the 55 studies shows statistically significant improvements for mortality, ventilation, ICU admission, hospitalization, and cases. 21 studies from 21 independent teams in 11 different countries show statistically significant improvements in isolation.
Most studies analyze exercise/physical activity levels
before infection
, comparing regular/moderate exercise and lower/no exercise. Risk may increase with more extreme activity levels.