Alzheimer's Linked to COVID-19 and Other Common Viral Infections
Besides aging, viral infections are also factors that contribute to Alzheimer's disease. COVID-19 has increasingly been linked to cognitive decline, a connection that appears to be confirmed by a new review of neurological symptoms connected to the condition.
According to researchers, the viral infection significantly adds to the risk of dementia in older people. In effect, Alzheimer's and COVID appear to work together to damage our brains.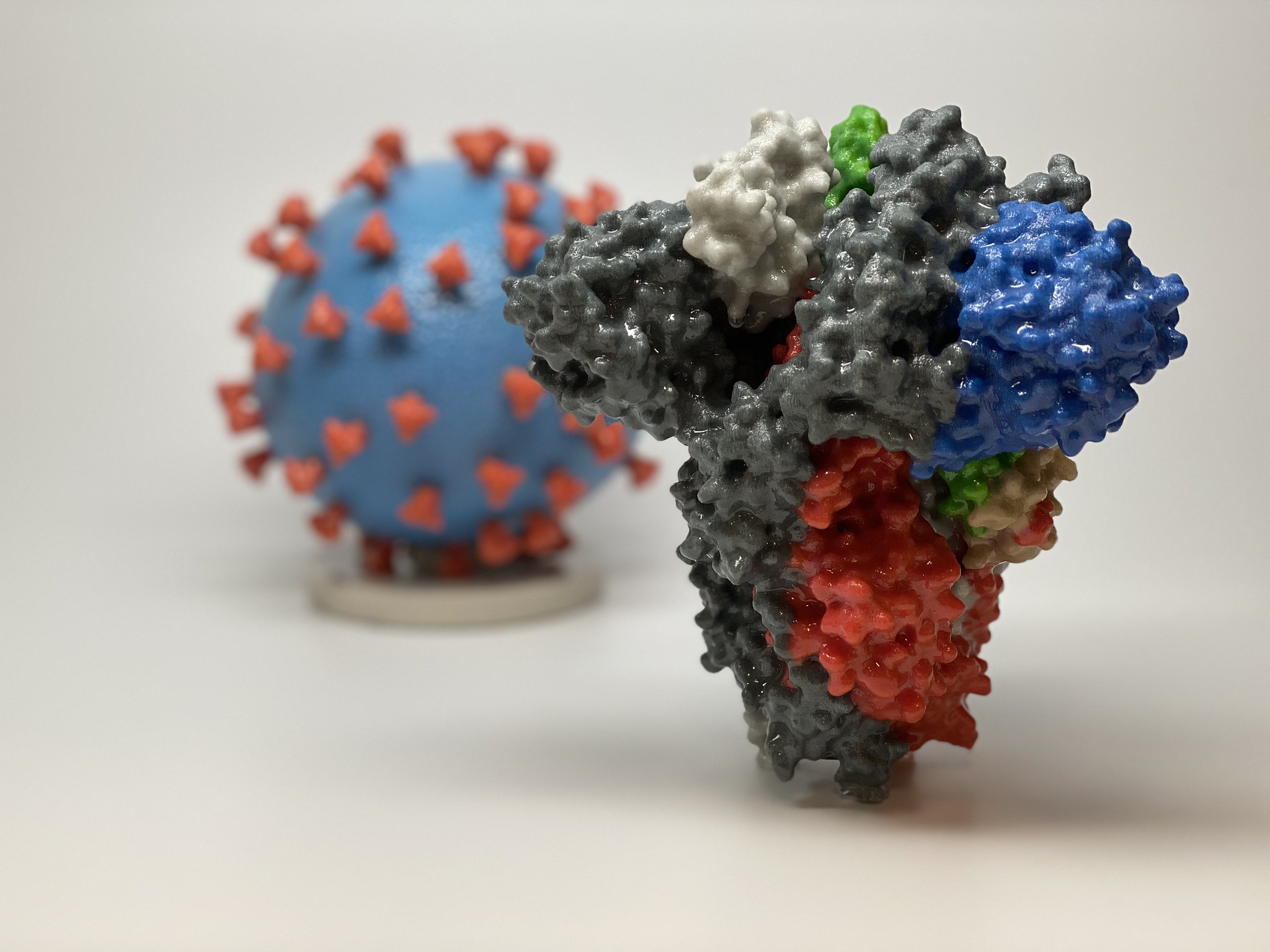 This image shows a 3D print of a spike protein of SARS-CoV-2—the virus that causes COVID-19—in front of a 3D print of a SARS-CoV-2 virus particle. (Courtesy of NIAID/RML)
"I believe over the next several years, emerging evidence will further support a link between microbial infection and neurodegenerative diseases," corresponding author of the study Thomas E. Lane, who holds a doctorate in microbiology and immunology, said in a press statement.
Alzheimer's Diagnoses May Surge Post-COVID
COVID-19 and Alzheimer's share inflammatory features and risk factors,
according to the review
. Inflammation may contribute to Alzheimer's onset and pathology. With COVID-19's global reach and extensive neurological impact, experts fear it may act as a risk factor for Alzheimer's or worsen existing pathology. If COVID-19 increases Alzheimer's risk, the combined effects of these devastating diseases could have major public health consequences worldwide.
Past research links viral infections to degenerative brain disease.
"The factors that play into the development of Alzheimer's disease have been poorly understood, but two pieces considered important are prior infections, especially viral infections, and inflammation," Dr. Pamela Davis, distinguished professor at Case Western Reserve University and study co-author, said in a press statement.
A sustained rise in Alzheimer's diagnoses after COVID-19 could substantially strain long-term care resources, she added.
The largest association was between viral encephalitis and Alzheimer's.
Researchers also discovered that shingles can reactivate the virus and cause Alzheimer's-like amyloid buildup.
Studying viruses' impact on neurodegeneration, ubiquitous COVID-19, is essential, Dr. Palekar said, noting that millions of people have been infected and "a large majority of them" experience long- or short-term neurological symptoms.
"Understanding the specific mechanisms by which viruses affect brain functions is critical and will drive the development of targeted therapeutics in reducing or even preventing virus-mediated neurodegeneration," he added.
Reposted from:
https://www.theepochtimes.com/health/alzheimers-linked-to-covid-19-and-other-common-viral-infections-5519384
Top Two Comments (The Epoch Times):
Larry Thiessen -
Apparently all conditions are now because of Covid. I haven't developed these conditions and people I know haven't. The only thing we have in common is we didn't get vaccines.
Amber Leavitt -
I would say the vaccine brings on dementia and Alzheimers saw it happen to my husband's grandmother she declined very rapidly and died just a few short months after getting the vaccine. Also most Elderly people are getting yearly flu shots and pneumonia shots it could actually be vaccines and all the neuro toxins in them that are damaging the brain more than the actual viruses.