Hong Kong study finds 58 percent of COVID-19 vaccine myocarditis confirmed by MRI not resolved at one year - Dr Peter McCullough
Almost every day the news brings another story of a young person dying of cardiac arrest. It is a sickening realization that COVID-19 vaccine-induced myocarditis could leave a zone of scar in the heart, risking the chance of ventricular tachycardia, ventricular fibrillation, and cardiac arrest at any time. Recently Hulscher, et al. have conclusively shown by autopsy that COVID-19 vaccine-induced myocarditis can be fatal.
A Hong Kong study by Yu and colleagues (August 2023) have found that of young persons who had heart damage confirmed by MRI [magnetic resonance imaging] and who underwent a second scan one year later, 58 percent had residual abnormalities suggesting a scar could be forming in the heart muscle.
Forty adolescents, mean age of 15, mostly boys, were evaluated. It was notable that 73 percent had no cardiac symptoms, so without an evaluation, the parents would have had no idea their child was suffering heart damage from the COVID-19 vaccine. Approximately 18 percent of cases initially had reduced left ventricular ejection fraction indicating they were at risk for the development of heart failure.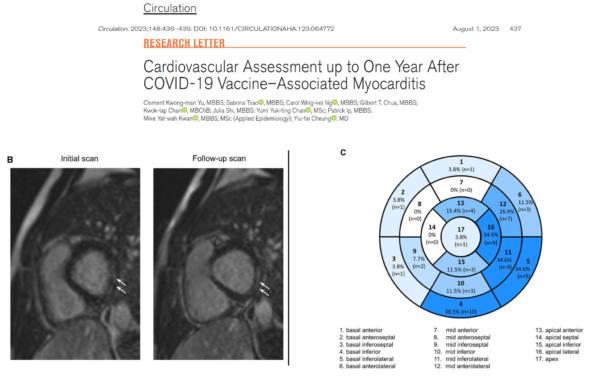 The authors point out that several other studies have found a majority of COVID-19 vaccine myocarditis cases with abnormal cardiac MRI findings have not resolved at 3–6 months. Now the report by Yu and colleagues suggest the damage may be permanent at a year.
Please share this important development with parents who have vaccinated their children or are contemplating succumbing to school mandates. The shot may cause irreversible damage and a lifetime of worry and regret.
Reposted from Peter McCullough's Substack
◇ References:
Yu CK, Tsao S, Ng CW, Chua GT, Chan KL, Shi J, Chan YY, Ip P, Kwan MY, Cheung YF. Cardiovascular Assessment up to One Year After COVID-19 Vaccine-Associated Myocarditis. Circulation. 2023 Aug;148(5):436-439. doi: 10.1161/CIRCULATIONAHA.123.064772. Epub 2023 Jul 31. PMID: 37523760; PMCID: PMC10373639.
Schauer J, Buddhe S, Gulhane A, Sagiv E, Studer M, Colyer J, Chikkabyrappa SM, Law Y, Portman MA. Persistent Cardiac Magnetic Resonance Imaging Findings in a Cohort of Adolescents with Post-Coronavirus Disease 2019 mRNA Vaccine Myopericarditis. J Pediatr. 2022 Jun;245:233-237. doi: 10.1016/j.jpeds.2022.03.032. Epub 2022 Mar 26. PMID: 35351530; PMCID: PMC8957353.
Barmada A, Klein J, Ramaswamy A, Brodsky NN, Jaycox JR, Sheikha H, Jones KM, Habet V, Campbell M, Sumida TS, Kontorovich A, Bogunovic D, Oliveira CR, Steele J, Hall EK, Pena-Hernandez M, Monteiro V, Lucas C, Ring AM, Omer SB, Iwasaki A, Yildirim I, Lucas CL. Cytokinopathy with aberrant cytotoxic lymphocytes and profibrotic myeloid response in SARS-CoV-2 mRNA vaccine-associated myocarditis. Sci Immunol. 2023 May 12;8(83):eadh3455. doi: 10.1126/sciimmunol.adh3455. Epub 2023 May 5. PMID: 37146127.
Dr. Peter McCullough Shares Concerning Data on the Long-Term Prognosis for Vaccine-Induced Myocarditis
I am extremely concerned that this now is a documented case of a cardiac arrest two years plus after taking the vaccines, and so the risk is carried forward.
Treatment protocol for Vaccine induced myocarditis/pericarditis
According to the
FLCCC I-Recover Protocol: Post Vaccine Treatment Protocol
:
ACE inhibitor/ARB, together with carvedilol as tolerated to prevent/limit progressive decline in cardiac function.
Colchicine in patients with pericarditis – 0.6 mg/day orally; increase to 0.6 mg twice daily if required. Reduce dose if patients develop diarrhea. Monitor white blood cell count. Decrease dose with renal impairment.
Omega-3 fatty acids – EPA/DHA 1-4 g/day (R). Increase dose slowly as tolerated.
Referral to a cardiologist or ER in case of persistent chest pain or other signs and symptoms of cardiac events are observed.
Resources for Those Injured by the COVID Jab
When it comes to treatment, it seems like many of the treatments that worked against severe COVID-19 infection also help ameliorate adverse effects from the jab. This makes sense, as the toxic, most damaging part of the virus is the spike protein, and that's what your whole body is producing if you got the jab.
So, the primary task to prevent and/or address post-jab injuries is to eliminate the spike protein. Ivermectin and hydroxychloroquine bind to and facilitate the removal of spike protein. According to McCullough, nattokinase, bromelain and curcumin also help degrade the spike protein.
At present, the Front Line COVID-19 Critical Care Alliance (FLCCC) seems to have one of the best treatment protocols for post-jab injuries. It's called
I-RECOVER
and can be downloaded from covid19criticalcare.com.
The World Health Council has also published lists of remedies that can help inhibit, neutralize and eliminate spike protein, which most experts agree is the primary culprit. See, "
World Council for Health Reveals Spike Protein Detox
."
The Wellness Company
's acclaimed Spike Support Formula contains scientifically-researched ingredients, including nattokinase, black seed oil (Nigella Sativa), green tea extract (EGCG) and selenium.
These ingredients are known for their ability to dissolve spike protein, prevent it from binding to cells, and repair tissue.
Recommended to maintain daily health for anyone exposed to COVID, vaccines, or shedding – and may help your body repair itself and remain at optimal health.
Where to buy Spike Support Formula:
Spike Support Formula is available on The Wellness Company's website. Here is the link: Spike Support Formula
(Long Haul Formula)
Note: To get 10% OFF, please use this coupon code: ONEDAYMD