Dissolution of Spike Protein by Nattokinase - Dr Peter McCullough
Far and away the most common question I get from those who took one of the COVID-19 vaccines is: "How do I get this out of my body." The mRNA and adenoviral DNA products were rolled out with no idea of how or when the body would ever break down the genetic code. The synthetic mRNA carried on lipid nanoparticles appears to be resistant to breakdown by human ribonucleases by design so the product would be long-lasting and produce the protein product of interest for a considerable time period.
This would be an advantage for a normal human protein being replaced in a rare genetic deficiency state (e.g., alpha galactosidase in Fabry's disease). However, it is a big problem when the protein is the pathogenic SARS-CoV-2 spike. The adenoviral DNA (Janssen) should be broken down by deoxyribonuclease, however, this has not been exhaustively studied.
This leaves dissolution of spike protein as a therapeutic goal for the vaccine injured. With the respiratory infection, spike is processed and activated by cellular proteases including transmembrane serine protein 2, cathepsin, and furin. With vaccination, these systems may be avoided by systemic administration and production of spike protein within cells. As a result, the pathogenesis of vaccine injury syndromes is believed to be driven by accumulation of spike protein in cells, tissues, and organs.
Nattokinase is an enzyme is produced by fermenting soybeans with the bacteria Bacillus subtilis var. natto and has been available as an oral supplement. It degrades fibrinogen, factor VII, cytokines, and factor VIII and has been studied for its cardiovascular benefits. Out of all the available therapies I have used in my practice and among all the proposed detoxification agents, I believe nattokinase and related peptides hold the greatest promise for patients at this time.
Tanikawa et al. examined the effect of nattokinase on the spike protein of SARS-CoV-2. In the first experiment, they demonstrated that spike was degraded in a time and dose-dependent manner in a cell lysate preparation that could be analogous to a vaccine recipient. The second experiment demonstrated that nattokinase degraded the spike protein in SARS-CoV-2 infected cells. This was reproduced in a similar study done by Oba and colleagues in 2021.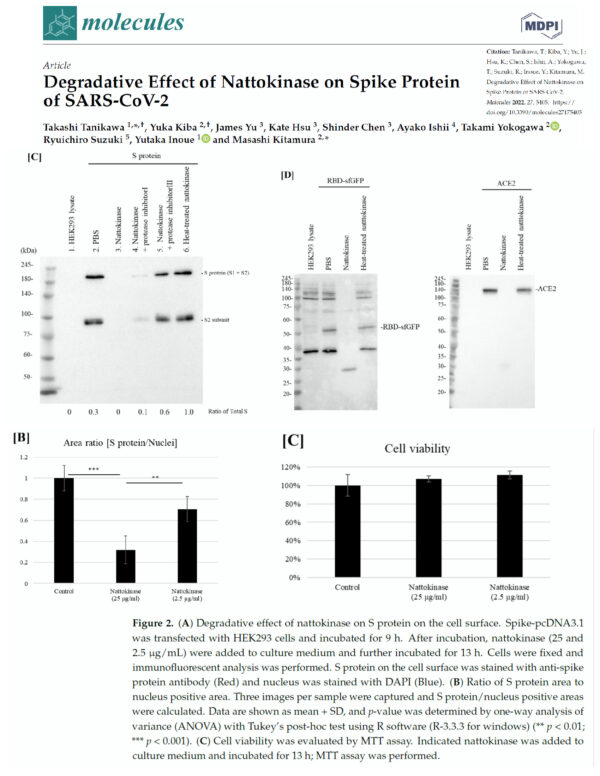 Nattokinase is dosed in fibrinolytic units (FU) per gram and can vary according to purity. Kurosawa and colleagues have shown in humans that after a single oral dose of 2000 FU D-dimer concentrations at six, and eight hours, and blood fibrin/fibrinogen degradation products at four hours after administration elevated significantly (p < 0.05, respectively).
Thus an empiric starting dose could be 2000 FU twice a day. Full pharmacokinetic and pharmacodynamic studies have not been completed, but several years of market use as an over-the-counter supplement suggests nattokinase is safe with the main caveat being excessive bleeding and cautions with concurrent antiplatelet and anticoagulant drugs.
Based on these findings, nattokinase and similar products such as serrapeptase should undergo well-funded, accelerated preclinical and clinical development programs. The issue at hand is the urgency of time, similar to that with SARS-CoV-2 infection and empiric early therapy. It will take up to 20 years to have a fully developed pharmaceutical profile to characterize the safety and efficacy of nattokinase in the treatment of vaccine injury and post-COVID syndromes.
Large numbers of people are sick now and many believe empiric treatment is justified given the sufficiently low risk of side effects and potentially high reward. My recommendation is to discuss this with your doctor or seek a specialist in holistic or naturopathic medicine who is experienced with the safety profile of nattokinase in a range of applications.
Reposted from Peter A. McCullough's Substack
Tanikawa T, Kiba Y, Yu J, Hsu K, Chen S, Ishii A, Yokogawa T, Suzuki R, Inoue Y, Kitamura M. Degradative Effect of Nattokinase on Spike Protein of SARS-CoV-2. Molecules. 2022 Aug 24;27(17):5405. doi: 10.3390/molecules27175405. PMID: 36080170; PMCID: PMC9458005.
Oba M, Rongduo W, Saito A, Okabayashi T, Yokota T, Yasuoka J, Sato Y, Nishifuji K, Wake H, Nibu Y, Mizutani T. Natto extract, a Japanese fermented soybean food, directly inhibits viral infections including SARS-CoV-2 in vitro. Biochem Biophys Res Commun. 2021 Sep 17;570:21-25. doi: 10.1016/j.bbrc.2021.07.034. Epub 2021 Jul 13. PMID: 34271432; PMCID: PMC8276596.
Kurosawa Y, Nirengi S, Homma T, Esaki K, Ohta M, Clark JF, Hamaoka T. A single-dose of oral nattokinase potentiates thrombolysis and anti-coagulation profiles. Sci Rep. 2015 Jun 25;5:11601. doi: 10.1038/srep11601. PMID: 26109079; PMCID: PMC4479826.
Cancer and Spike Protein: What's the Link?
Does spike protein stay in body forever?
The Infectious Disease Society of America (IDSA) estimates that the spike proteins that were generated by COVID-19 vaccines

last up to a few weeks

, like other proteins made by the body. The immune system quickly identifies, attacks and destroys the spike proteins because it recognizes them as not part of you. This "learning the enemy" process is how the immune system figures out how to defeat the real coronavirus. It remembers what it saw and when you are exposed to coronavirus in the future it can rapidly mount an effective immune response.
However, in a paper published in
Clinical Infectious Diseases
(Swank 2023), researchers reported detecting a fragment of SARS-CoV-2 in blood samples from long COVID sufferers up to a year after their original infection. The fragment is a spike protein, one of the protrusions around the outside of SARS-CoV-2 that give this coronavirus its namesake corona, or crownlike appearance. During an initial COVID infection, the spike protein typically breaks off into smaller pieces when it penetrates human cells, but the spike proteins observed in this study were still in one piece.
Although the research on nattokinase and its effect on COVID-19 is still in its infancy, the ability of nattokinase to degrade spike proteins combined with its anti-clotting properties makes it an exciting topic for further study.
Some researchers and clinicians theorize that symptoms of long COVID may be at least partially due to the blockage of vessels by microclots, and that the spike protein might be the trigger—which is supported by a recent
Harvard Medical School study
. If this is the case, nattokinase could be a potential treatment for those suffering from long COVID and its extensive list of symptoms.
Nattokinase's anti-clotting prowess and ability to dissolve spike proteins could also be helpful with the clotting problems many doctors have observed in those who took the vaccine, and could be a way to dissolve those blood clots before they can do irreparable damage to tissues and organs.
FLCCC protocols
The Front Line COVID-19 Critical Care Alliance has developed protocols aimed at:
The Wellness Company
's acclaimed Spike Support Formula contains scientifically-researched ingredients, including nattokinase, black seed oil, green tea extract and selenium.
These ingredients are known for their ability to dissolve spike protein, prevent it from binding to cells, and repair tissue.
Recommended to maintain daily health for anyone exposed to COVID, vaccines, or shedding – and may help your body repair itself and remain at optimal health.
Where to buy Spike Support Formula:
Spike Support Formula is available on The Wellness Company's website. Here is the link: Spike Support Formula
(Long Haul Formula)
Note: To get 10% OFF, please use this coupon code: ONEDAYMD